Little over a year ago I attended the umami event at the Rotterdam World food festival, where professor Ole G. Mouritsen gave a presentation about umami, complemented with food prepared by chef Pepijn Schmeink (at the time chef/owner at Eendracht, now at Dertien) and chef Yamamoto or Yama for short. We had some interesting dishes at the hands of the chefs, but one dish in particular really blew my mind: chef Yama's sushi. Perfectly balanced flavours and textures. Hands down the best I'd ever had.
So, when I heard that chef Yama was opening his own place I knew we had to go. In fact, we actually went the very first day the restaurant was opened in February, and have returned many times since.
The Japanese (Hokkaido) born chef moved to the Netherlands in 2004 and worked the kitchens at Yamazato for eight years. He subsequently worked at Huson in Rotterdam for two years before starting his own place: Japanese Cuisine Yama.
The restaurant is located on the Eendrachtsweg (where Eendracht used to be) and only seats 15-20. The kitchen is run by Yama, with help from Mao, and his partner Yuko tends to the guests.
Yama does a kaiseki style 3 course €34 or 5 course €52 set menu that changes with the seasons and availability of ingredients. They have a short but well-pairing wine list and a nice and recently expanded sake selection.
Our most recent visit to Yama was on October 10.
We were greated warmly by Yuko and Yama-san. Since it was a celebratory occasion we decided on the Michel Arnould "Brut Tradition" to start. We were presented with an o-shibori (hot towel) to clean our hands as is common in Japan. As usual, we opted for the 5 course menu, and, while enjoying the champagne, the sakizuke, or amuse, arrived. A nice piece of marinated warm salmon on top of some subtly flavored beautifully cooked vegetables.

To accompany our first few courses we chose the Nec-Otium, 2010 Bianco della Venezia Delfino della Marchesa; a crisp blend of Friulano, Malvasia and Ribolla Gialla.
Then came our first dish. A teapot with a wonderfully fragrant broth with shrimp and a piece of white fish. The broth in the teapot was to be poured into a small teacup and drunk separately.
On to the next course, spinach with sesame seeds and mushrooms, freshly made pumpkin tofu with salmon eggs, two perfectly cooked shrimp with different types of seaweed and spicy fish eggs. A great combination of flavors.
As an accompaniment to the remaining dishes, we drank the Daniel Chotard, 2011 Domaine Sancerre; a more full-bodied wine.
Sushi was next. At the past dinners we've had here, the sushi was always the final course, but Yama decided it would fit better in this spot for his current menu. From left to right: crab roll, unagi, otoro, salmon, tuna, and I believe sea bass with a shiso leaf. The rice is always prepared to perfection and the fish amazing. They were all really good, but my favorites would have to be the otoro and the unagi. The otoro melts in your mouth and the unagi is just fatty goodness.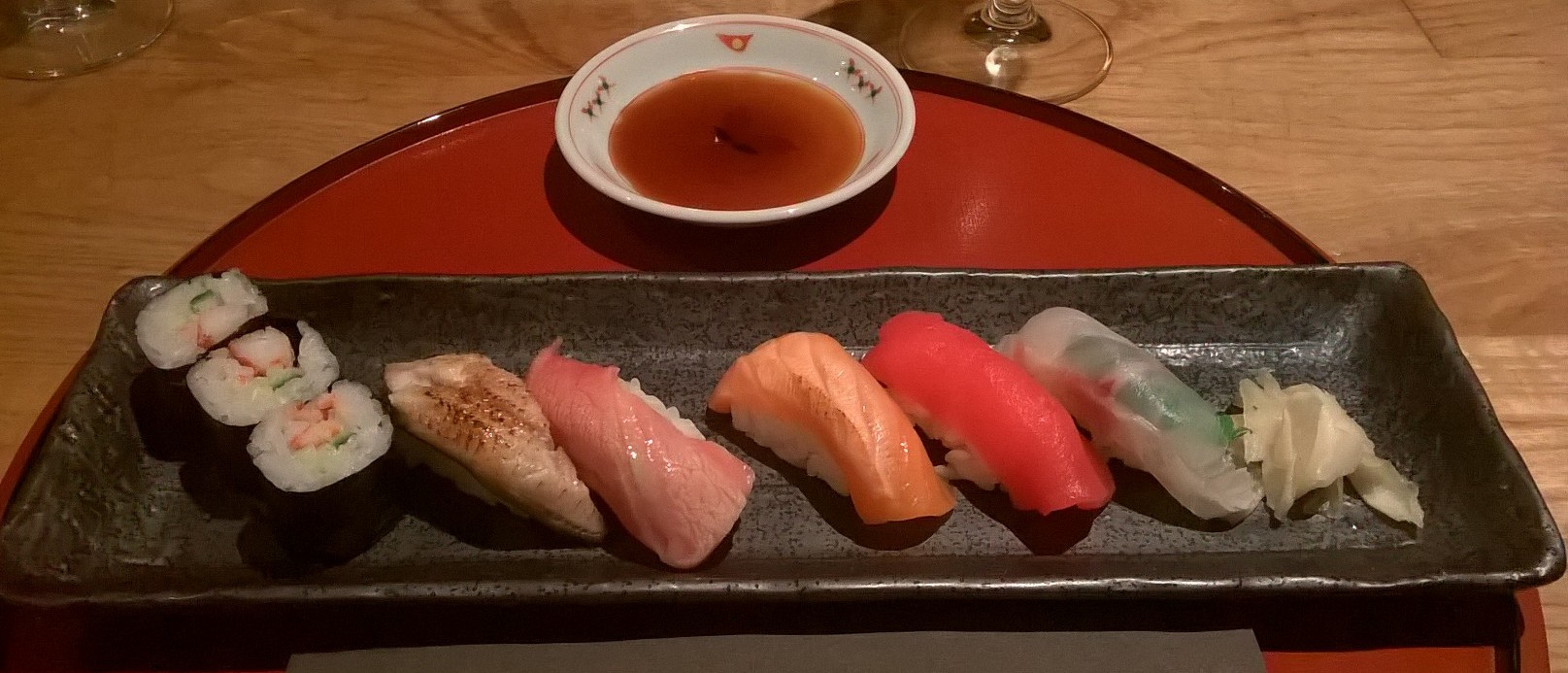 Our fourth course was scallops with soy and crazy pea, aubergine with dark miso and puffed rice, a daikon 'flower', sea bass with light miso, and a lotus root chip. Though by no means a bad dish, this was probably my least favorite of the night. The scallops were great and combined well with the slightly tart pea cress, but the sea bass, though flavorful, was overcooked.
Our final dish was the main event of the night. A play on sukiyaki, a beautiful beefy broth with American Angus beef, udon noodles, shiitake mushrooms, carrots, onion, and rocket. Traditionally, sukiyaki is served with raw egg on the side for dipping the beef and vegetables in. In this version, the chef used a boiled egg where the yolk was just solidifying. The egg adds richness and a silky mouthfeel to the dish. I'm a sucker for noodle soups and this was really good.
This dinner, as the others we've had here, was deeply satisfying in many ways. The food, the relaxing atmosphere, and just watching chef Yama in the kitchen make dinner at Yama's an experience we keep coming back for. Japanese Cuisine Yama is definitely our favorite restaurant in Rotterdam.